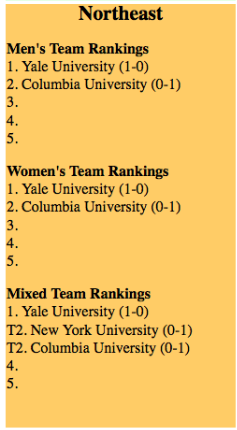 Merry Christmas! It's been awhile since I've had time to update the website, but here we are now. With the 2012 Fall Season wrapped up, I thought it would be good to produce a write up.
Eric, the team and I have been really busy this semester. I'm really satisfied with what we've managed to accomplish. Here's a quick overview.
Competition (two matches):
Columbia (Home) - Men's (7-2), Women's (8-1), Mixed (10-3)
NYU (Away) - Men's (4-5), Women's (1-8), Mixed (6-7)
This puts us at a record of (1-1). We're either first or second in our region still. NYU has yet to submit their match results.
Team:
21 new team (awesome!) members
11 men, 10 women
13 regular players, 8 alternate players
12 undergraduates, 9 non-undergraduates
New team practice sessions
Equipment and Spending:
~4-5 tubes of shuttles remaining for practice
New uniforms purchased for every player
External bank account created and verified with CSO
$800 allocation from CSAB
Sustainable spending thus far (we might go over next semester)
Outreach:
Created the NE Badminton Club Group
Created Yale Badminton Club Twitter Page
Created Yale Badminton Club Facebook Page
Created Yale Badminton Club Website
Created Yale Badminton Club YouTube Channel
Created new logo (Thanks Qiao + Jiashee!)
In Planning
Recreational session registration system
Spring Ivy League Tournament
Match v. Brown (Home)
Match v. Bryn Mawr (Away)
More social media?!
Invited to represent Team USA at the Summer World University Games, in Kazan, Russia