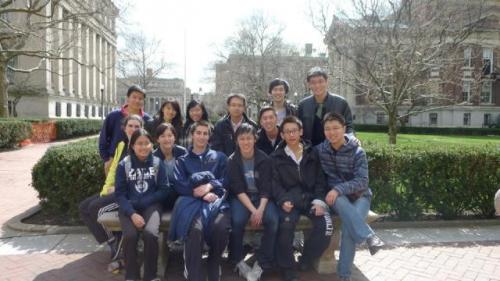 Thanks to initiative from Columbia, this is the first year that an Ivy League badminton tournament took place. We organized well ahead of time, but only heard back from their administration. The participating teams were Yale, Columbia, Princeton and Cornell. Harvard, Penn and Brown also have badminton teams, but were unable to come.
We left New Haven around 7 and arrived there at 9. What we did not realize is that we would be in Columbia gym from about 9 AM to 10 PM. So many matches were played. Unfortunately, our star player/secret weapon, Macey, ditched us last minute to go to DC :(. Nonetheless, we had a pretty good showing.
Our team was very closely matched at times. There were a lot of 19-21's, and in the end it seemed like our team would make the first mistake. Brian lost his first match ever to a Columbia player from the Netherlands. Cornell brought an extra girl player from Rochester, who we eventually got disqualified. Morgane won the final game 21-19 that allowed us to snag the 2nd place women's trophy. Great showing by everyone.
In the end, we managed to snag 2nd place in Women's and 3rd for all other events. We were really close though!
Scores:
v. Columbia: Men's (3-4) // Women's (3-2) // Mixed (1-2)
v. Cornell: Men's (1-6) // Women's (3-2) // Mixed (2-1)
v. Princeton: Men's (7-0) // Women's (2-3) // Mixed (1-2)